Welcome to the page for the cleaning of hard flooring in Bedfordshire.
Have a look below at our most recent work of restoring a kitchen travertine stone floor to its former glory in Bedfordshire.
A very thorough deep clean of the tiles and grout lines, followed by filling some very large holes in the stone and then a colour enhancing impregnator was applied to bring the life and colours back to this beautiful stone floor.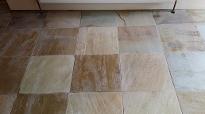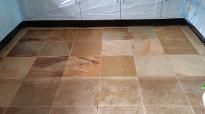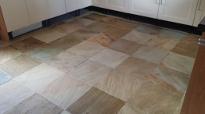 Stone flooring can look nothing short of beautiful when new.
But, did you know that natural stone needs to breath to retain its composition?
So what happens when it can't breathe?
If natural vapour transmission isn't allowed to take place then the moisture gets trapped and can cause chemical and mineralogical changes within the stone.
This action of decay may take the form of pitting, flaking and oxidisation.
By using a DIY coating or sealer on your stone it will block the small pores making it unable to breathe. So when its time to restore your marble, slate, travertine, granite and terracotta, think twice about the quick fix alternatives of just coating the surface with a varnish or sealer.
Approved Carpet Cleaning of Flitwick are trained in all aspects of cleaning ,polishing and restoring natural stone and can assess and recommend the correct procedure to keep it healthy and looking its best.
Call us now on 01525 552222 for a FREE no obligation quote, or send us a message via our contact page and we'll get back to you as soon as possible

Please note that as we are extremely busy and we value our time with our customers, it may not to be possible to answer calls straight away and we may have to come back to you at the end of the day.

A beautiful basalt stone worktop , over 10 years old, deep cleaned, stains removed and colour enhancing sealer applied to protect it from future water, grease and oil stains.
Your local natural stone floor, tile & grout and worktop cleaning specialist for:
Bedford, Biddenham, Harrold, Lavendon, Renhold, Flitwick, Ampthill, Westoning, Harlington, Toddington, Maulden, Millbrook, Liddlington, Marston Moretaine, Shefford, Henlow, Stotfold, Barton-le-Clay, Shillington, Pirton, Tingrith, Cranfield, Aspley Guise, Hockliffe,Southill, Northill, Biggleswade, Sandy, Kempston, Wilstead, Shillington, Broom, Langford, Meppershall, Lower Stondon, Hexton, Stewartby, Wootton, Elstow, Cardington, Cople, Steppingley, Flitton, Greenfield, Pulloxhill, Silsoe, Gravenhurst, and any surrounding places in Bedfordshire we have missed off the list!

©2017 Approved Carpet Cleaning of Flitwick,11 Sheepfold Hill, Flitwick,Bedford, Bedfordshire MK45 1BT. 01525 552222